Connect with your patients
Take advantage of your social media channels to inform and educate your patients, and engage with your local community.
Communicate on a more personal level.
Regular communication to your patients and local community has never been more important.
Medical Together can remove the pressure of day to day social media management from your team and keep your channels up to date for you. Conveying essential health related information is important, but keeping it regular and engaging is where the challenge begins.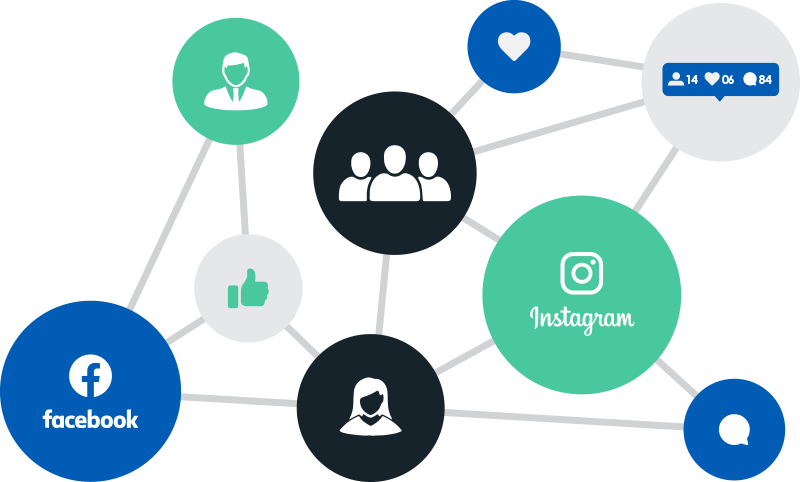 We're your social experts.
Social media is an essential tool in any digital marketing strategy, but knowing exactly how to use it's different platforms in order to reap maximum results is both knowledge dependant, and incredibly time consuming.
Utilise our experts and create a social media strategy that increases engagement and brings more patients to your door without lifting a finger.
Whether you're looking for effective ways to populate your social media channels, to enhance your online presence, or increase your reach and attract new traffic to your business, our social experts can work alongside you to develop a strategy that aligns with your business model and achieves your goals.
Whatever your business and whatever its goals, we have the package to suit.
Regular New Content Posts
Regular posting to your social media channels, Facebook, Instagram is incredibly effective when it comes to keeping your patients engaged and building a larger audience within your community.
Facebook
We recommend medical centres post regular content to their Facebook page. This will generate awareness of your services and medical centre and provide your patients with up to date information.
Instagram
Instagram is a great platform for keeping your patients engaged with your medical centre.
LinkedIn
Keep engaged with Allied Health services and other service providers outside of your practice, build new connections and find potential future team members through LinkedIn.
Social Media Engagement
Posting to your socials is great! But if that's all you do, you won't get too far. Our team includes dedicated social media creatives who will engage with others in your local community on your behalf, increasing your following and the effectiveness of your social platforms.
Boosting
Want to reach more people in your community quickly. We can boost your more popular posts to targeted demographics in your local area to increase awareness of your clinic and its services..
Retargeting & Awareness Campaigns
Get a lot more reach and bang for your buck with our social media advertising options. We can increase your audience and following with paid advertising, as well as increasing your retention and conversions with retargeting campaigns.
Start getting your socials going. Not sure which plan is right for your clinic? Request a call back and we can guide you through the process.
Features
Standard
Plus
Ultimate
Number of Posts Per Month
9
12
18
Number of Platforms

eg. Facebook, Instagram, LinkedIn…

2
2
3
Graphic Design

Our graphic designers will create amazing artwork for some of your posts.

Copywriting

Our copywriters will create engaging post content..

Monthly Consultation
Live Reporting
Post Boosting

Ad spend not included and to be negotiated separately.

Retargeting Ads

Ad spend not included and to be negotiated separately.

Awareness Ads

Ad spend not included and to be negotiated separately.